Make your help aware about the various benefits available to women in their family. Help them can get access to maternity benefits, rehabilitation and long-term security, through welfare schemes. Educate them about the different facilities that provide financial assistance to expecting mothers.
Contact Haqdarshak to help access these benefits for your help!
Janani Suraksha Yojana
Janani Suraksha Yojana is a safe motherhood intervention under the National Health Mission (NHM) aimed at reducing maternal and neo-natal mortality by promoting institutional delivery among poor pregnant women. Under this initiative, eligible pregnant women are entitled to cash assistance ranging from ₹500 – ₹1,400 for institutional delivery.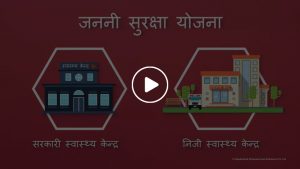 All pregnant women delivering in government health centres, such as Sub Centers (SCs)/Primary Health Centers (PHCs)/Community Health Centers (CHCs)/First Referral Units (FRUs)/general wards of district or state hospitals.
All BPL/Scheduled Caste/Scheduled Tribe (SC/ST) women delivering in a government health centre, such as SC/PHC/CHC/FRU/general wards of district or state hospital
BPL/SC/ST women in accredited private institutions.
The applicant needs to register at the institute where the delivery is being planned
Application is done through the Auxiliary Nurse Midwife in the district. Maternity Centres register the applicant on the RCH portal and provide you with the Janani Suraksha Yojana (JSY) Card that is used for tracking the pregnancy
Under this scheme, the beneficiary is given free medical check-ups and required medicines and vaccinations
Benefits are provided after the delivery
**Benefits have to be claimed within 7 days after the delivery
Pradhan Mantri Matru Vandana Yojana (PMMVY)
The Pradhan Mantri Matru Vandana Yojana is a maternity benefit programme. It provides compensation for wage loss during child-birth and child care. This is to ensure that the woman takes adequate rest before and after the delivery of her first born. It is a partial compensation which is a part of a plan to provide a total sum of ₹6,000 on an average to the woman. The remaining cash incentive (of ₹1,000) is provided under Janani Suraksha Yojana (JSY) post institutional delivery.
All eligible pregnant women and lactating mothers who are expecting the first child in the family.
Eligible women who wish to avail maternity benefits under the scheme need to register for the scheme at an Anganwadi Centre (AWC ) or at an approved (government) health facility, whichever is the implementing department for that particular State /Union Territory. The registration must be done within 150 days of Last Menstrual Period (LMP).


Helpline number: 011-23382393

Indira Gandhi Widow Pension Scheme
The Indira Gandhi Widow Pension Scheme provides a monthly pension to widows from Below Poverty Line households. It provides a monthly pension of ₹300 to 40-79 year olds and ₹500 to those who are 80 years and above.
Widows of age group 40 to 79 years.
Applicants must submit the application form along with all the necessary documents to the office of

Gram Panchayat/Janpad Panchyat for rural areas
Nagar Nigam/Nagar Panchayat/Nagar Parishad for urban areas
*The urban bodies/village panchayats will forward the application to the respective ULBs/Janpad panchayats with their recommendation. The respective urban bodies/Janpad panchayats have the right to accept/reject the same.
Swadhar Greh
The Swadhar Greh Scheme was launched for the rehabilitation of women in difficult circumstances who are in need of institutional support. The scheme provides economic and social security for these women so that they can lead dignified lives. The beneficiaries include widows deserted by their families and relatives, women prisoners released from jail who have no family support, among others.
Applicable to women above 18 years of age.
Women who are deserted and are without any social and economic support
Women survivors of natural disasters who have been rendered homeless and are without any social and economic support
Women prisoners released from jail and are without family, social and economic support
Women victims of domestic violence, family tension or discord, who are made to leave their homes without any means of subsistence and have no special protection from exploitation and/or facing litigation on account of marital disputes
Trafficked women/girls rescued or runaway from brothels or other places where they face exploitation and women affected by HIV/AIDS who do not have any social or economic support
Reach the nearest Swadhar Greh and contact the officer in-charge, who will arrange for a specialised interview. They can also approach the women and child development office of their district.
A specialised interview and case file would be developed by the counsellor to assist her overcome her initial trauma as well as to identify the suitability of services available at Swadhar Greh as per the needs of the woman.
On arrival, she will be registered in the admission register with details such as name, address, age, details of children (if any), description of the problem and source of reference.
Women of all categories can stay for a maximum period of 5 years. Women above 55 years of age may be accommodated for a maximum period of 5 years, after which they will have to shift to old age homes or similar institutions.
There is a time limit for accommodating children accompanying the women - girls (up to 18 years) and boys (up to 12 years).