Help your help get access to organised finance channels such as savings accounts and micro-credit to break the vicious cycle of moneylenders and pawnbrokers. Browse through the welfare schemes on this page to help them access affordable financial services or contact Haqdarshak to help do it for you!
Pradhan Mantri Jan Dhan Yojana (PMJDY)
Pradhan Mantri Jan Dhan Yojana is a national mission aimed at ensuring greater financial inclusion in the country by improving access to affordable financial services such as savings accounts, need-based credit, micro-insurance, remittance and pension. Benefits include simplified access to basic banking services under the scheme and no minimum balance requirements. Any individual above the age of 10 years is eligible to open an account.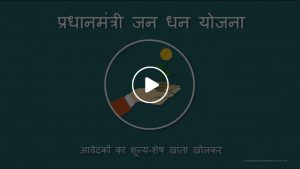 Individuals with Indian nationality status are eligible to successfully open a Jan Dhan Yojana account
An individual with no valid documents as proof for Indian nationality status can also open a Jan Dhan Yojana account, provided the concerned bank does the required background check on the individual and categorises him or her as 'low risk'
Minors aged above 10 years are also eligible to have a Jan Dhan Yojana account in any bank across the country. However, minors will require the support of guardians to administer the Jan Dhan account. Minors can also use RuPay Cards through which they can withdraw money from ATMs
Individuals who already have a basic savings account in operation with a bank can easily transfer or link their accounts to Jan Dhan Yojana accounts to avail of various benefits offered by the latter
Individuals can open an account under the PMJDY scheme at both public and private sector banks
Individuals who can submit any form of identity proof which is duly authorized by gazette officers can open a Jan Dhan Yojana account. An account can be opened by presenting an officially valid document.

Passport
Driving licence
Permanent Account Number (PAN) Card
Voter's Identity Card issued by Election Commission of India
Job card issued by NREGA duly signed by an officer of the State Government
Letter issued by the Unique Identification Authority of India containing details of name, address and Aadhaar number
Any other document as notified by the Central Government in consultation with the Regulator

Where simplified measures are applied for verifying identity proof, the following documents shall be deemed officially valid documents:

Identity card with applicant's Photograph issued by Central/State Government Departments, Statutory/Regulatory Authorities, Public Sector Undertakings, Scheduled Commercial Banks, and Public Financial Institutions
Letter issued by a Gazetted officer, with a duly attested photograph of the person.
Atal Pension Yojana (APY)
Atal Pension Yojana is a pension scheme for the citizens of India focused on workers from the unorganized sector. It offers a guaranteed minimum pension for subscribers ranging from ₹1,000 to ₹5,000 per month, depending on their contributions and the age of joining APY. It is open to all savings bank account/post office savings bank account holders in the age group of 18 to 40 years.
APY is open to all savings bank/post office savings bank account holders in the age group of 18 to 40 years
Bank account Holders
Approach the bank branch
Fill up the Atal Pension Yojana registration form
Provide the Bank account number, Aadhaar no. and Mobile number
First contribution amount will be deducted from the account itself and thereafter on monthly basis
Banks will issue acknowledgement number / Permanent Retirement Account number on the counter foil slip against their subscription application
Non-Bank Account Holders
Approach the bank branch and open a bank account by providing KYC document and Copy of Aadhaar card (self-attested)
Follow the above-mentioned process
Stand Up India Scheme
The Stand Up India scheme aims at promoting entrepreneurship among women and scheduled castes and tribes. It facilitates bank loans between ₹10 lakh and ₹1 crore for setting up greenfield enterprises. This enterprise may be in manufacturing, services or the trading sector. Open to at least one Scheduled Caste/Scheduled Tribe borrower and at least one woman borrower per bank branch.
Pradhan Mantri Vaya Vandana Yojana (PMVVY)
Pradhan Mantri Vaya Vandana Yojana is a pension scheme exclusively for senior citizens. The main aim of the scheme is to provide senior citizens with regular pension when there is a fall in interest rates. Under this scheme a person has to purchase a scheme at a particular price after which he/she gets a pension of maximum ₹1000 to ₹12,000 per month for 10 years. The scheme can be bought via online and offline modes from the Life Insurance Corporation (LIC) of India. The minimum entry age is 60 years.